Finally, the end of a great week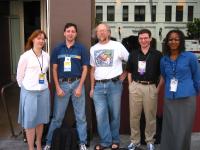 I'm finally back home connected to the net again. It's been a great week. Today started with Scott McNealy's keynote, which was entertaining (as always). He gave out several awards for the best Java projects: all well deserved, and very cool. I don't remember them all, but they included the JPL folks, the Brazilian Healthcare project, the navigation system from Jentro, a very cool Nokia handset; and a special award for Thor Norbye for his incredibly studly performance during a demo on Wednesday where everything crashed (it was the back end database!) and he put it back together in real time. Iron Chef comes to hacking.
The picture at the left is of me with the winners of the Urban Adventure contest. It was a scavenger hunt that covered a lot of San Francisco. About 100 teams competed. Many were groups of friends, but this team was four people who had never met before, but who worked together extremely well. They turned out to have complementary skills and compatible personalities. Quite a piece of luck! It sounds like the whole Urban Adventure was a lot of fun for everyone. In general, JavaOne is end-to-end compressed learning and parties. Totally exhausting.
If I had to pick one highlight of the whole week, it would be that I noticed that everyone was smiling. Last year, there was a general feeling of gloom. It wasn't about Java at all, just a general gloom about life, the universe, and everything. This year was very upbeat and charged. And unlike the bubble years, when I'd ask folks what they were doing, the answers made sense. No fluffy concepts. No goofball math. Just real products. Real business plans. Real success.
Very, very, cool.
And the best part is that I get to sleep in tomorrow...