Hello, Brazil!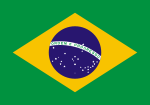 This week I'm in Sao Paulo, Brazil for
Tech Days
. If you're in the neighborhood, come join us. We've got lots of great speakers who will be covering a wide range of topics.
High on the exciting list are the joint FCS releases of GlassFish V3 and NetBeans 6.8 (probably on the 10th, depending on how the Release Gods smile). These are both hot after the approval of the EE 6 ballot. The spec is done, the implementation is done, and the tools are done. Things of beauty! Enjoy!!
Fantastic job, everyone!